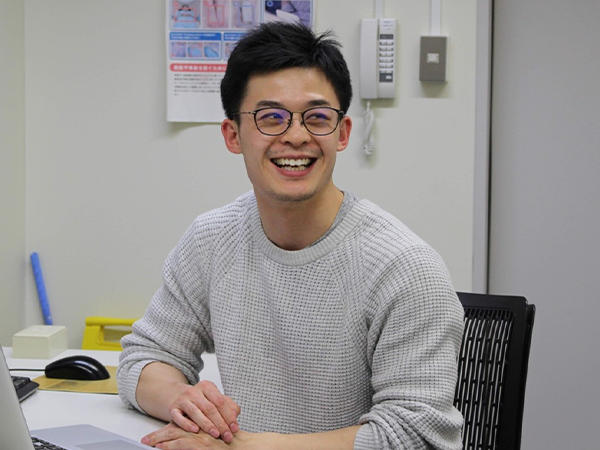 Cui Haining
(PhD Graduate, 2021)
As an alumnus of the International Graduate Program for Language Sciences (IGPLS) at Tohoku University, I am thrilled to share my experiences and reflect on the valuable opportunities I encountered during my time in the program. The program brought together faculty members from diverse backgrounds, including linguistics, psychology, and cognitive neuroscience.
One aspect of IGPLS that I particularly enjoyed was its strong emphasis on interdisciplinary research in language sciences.
From 2015 to 2022, I had the privilege of working on cutting-edge research projects, focusing on topics such as language acquisition, bilingualism, and the neural mechanisms underlying speech processing and production. During these years, I completed both my Master's and Doctoral degrees, focusing on investigating the cognitive mechanisms of socio-pragmatic expressions using a combination of behavioral and fMRI techniques. Building upon the foundation laid during my time at IGPLS, currently, I am working as a postdoctoral researcher at the School of Communication Sciences and Disorders, McGill University. Here, I continue to delve into the intricate workings of language and cognitive neuroscience.
In general, IGPLS provided me with an exceptional education and a supportive community that propelled my career in language sciences. The program's commitment to interdisciplinary research, combined with hands-on experience and guidance from renowned faculty members, allowed me to develop valuable skills and make meaningful contributions to the field. I am proud to be an alumnus of IGPLS and remain grateful for the impactful experiences and invaluable knowledge it has provided me.
I am from Costa Rica but currently living in the brisk city of Sendai, located in the northern part of Japan, where I am enrolled in Tohoku University's IGPLS program, an English-conducted Master's course that focuses on the study and research of language (linguistics).
As a 1st year Master's student in my second semester, I have had the opportunity to take on a good variety of courses all taught in English ranging from theoretic subjects, such as generative syntax, history of the Japanese language, lexical semantics, contrastive linguistics, cognitive linguistics and pragmatics, to more applied subjects, such as psycholinguistics, neurolinguistics and second language acquisition.
Thanks to this combination of theoretical and applied subjects, I was able to gain the background necessary to start my research, which attempts to apply pragmatic language issues to second language acquisition for the purpose of looking for solutions in language teaching (basically, the acquisition of pragmatic competence in a second language). For my experience up until now, I believe that the flexibility this program offers can accommodate a large variety of research topics and provide support for future researchers in their chosen areas.
Finally, I also want to mention the strong Japanese language program that Tohoku University offers to its foreign students. The program offers a large variety of courses from the beginner level all the way up to the advanced level, including preparation for the JLPT N2 and N1 and further. Combining these classes with the IGPLS courses has been a fully rewarding student experience for me, and on top of that, sharing my experiences with classmates from all around the world from diverse research backgrounds has been the best university life that I could ask for. I hope that you will consider joining our program too!